The newly developed adiabatic cooler with direct connection to town water
Adiabatic cooling in air handling units is used to either cool the air or increase the humidity, with the main focus usually on the cooling function. Most adiabatic coolers on the market are usually operated with water from a built in tank, which is circulated by a pump.
The newly developed adiabatic cooler from Euroclima is connected directly to the town water supply. This considerably reduces the requirement for service and maintenance, as the constant emptying and discharge of the storage tank and its manual cleaning is no longer necessary.  Further benefits are a three-sided inclined tank – which meets the VDI 6022 criteria – is installed ensuring no water remains standing and the tank is completely emptied after the humidifier is switched off.  The piping is designed in such a way ensuring that all water can be drained after the system is switched off. This achieves important hygienic aspects and is useful in preventing freezing of the pipework which can be dangerous.
Humidification efficiency
The new adiabatic cooler nozzles emit a very fine spray and can operate at a pressure of between 2 to 10 bar.  A large number of nozzles are installed in this module, which significantly improves the efficiency of humidification via a very fine atomization.
The cooling can be controlled precisely via the inlet pressure ranging from 20 – 100% in control.  This is an ideal solution for operators seeking efficiency versus the investment costs of a high pressure humidifier or expensive water treatment.  This also achieves market driven demands for the hygienic aspects of operation with direct water with a reduced water consumption profile for the end user.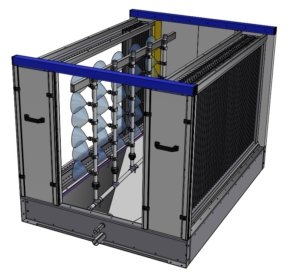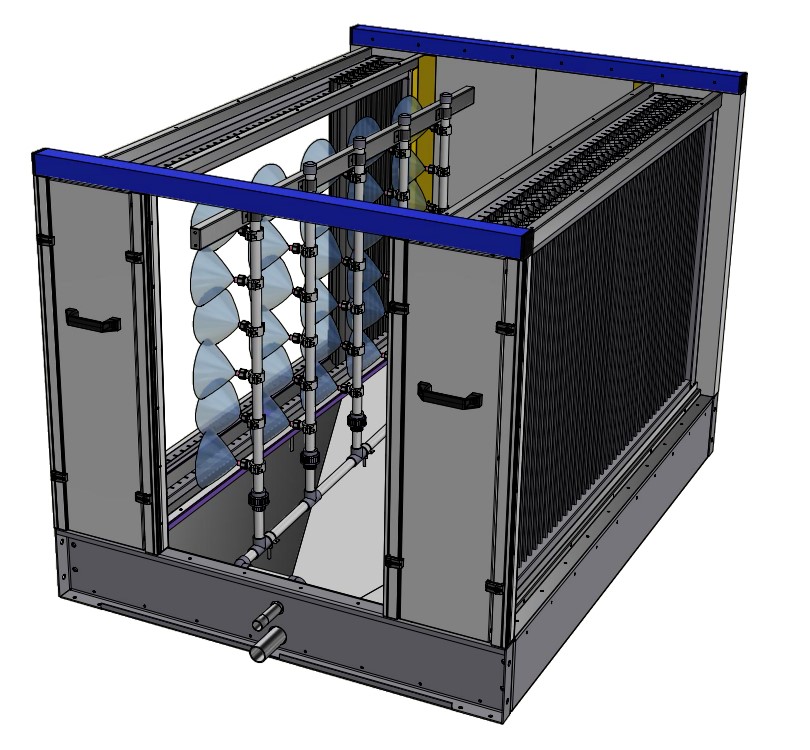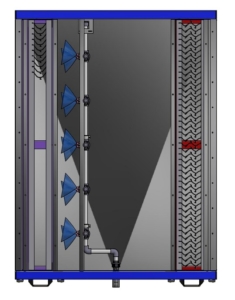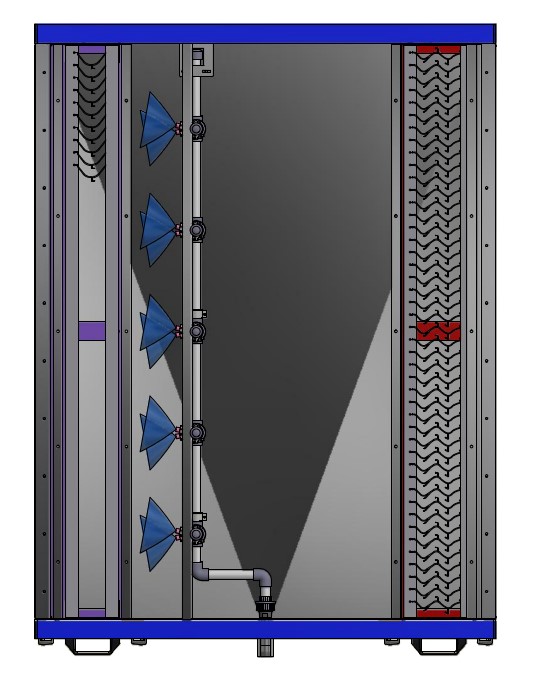 Drw. 1: Open section of an adiabatic cooler       Drw. 2: Adiabatic cooler from the top